Indonesia won a second sovereign rating upgrade this year, with Fitch Ratings raising its assessment to the second-lowest investment grade, months after S&P Global Ratings lifted the nation out of junk status. The nation's stocks and currency rallied.
The rating on the nation's long-term, foreign currency-denominated debt was raised one level to BBB with a stable outlook, Fitch said in a statement on Thursday. The upgrade puts Indonesia on par with the Philippines and Portugal, which received upgrades just this month.
Indonesia's resilience to external shocks is among the key rating drivers as policy makers focus on stability, Fitch said, echoing similar comments from S&P which returned the country to investment grade in May. These endorsements of the nation's economic stability are likely to help President Joko Widodo as he embarks on a $62 billion borrowing plan next year.
"With U.S. treasury yields trending higher lately, this upgrade will help limit any rise in Indonesia's risk premium and keep yields low," said Handy Yunianto, head of fixed-income research at PT Mandiri Sekuritas. "We expect overall Indonesian yields to stay relatively low despite rising U.S. yields. The pieces lined up for Indonesia on the macro front, where we see growth bottoming out while inflation is trending down with low volatility."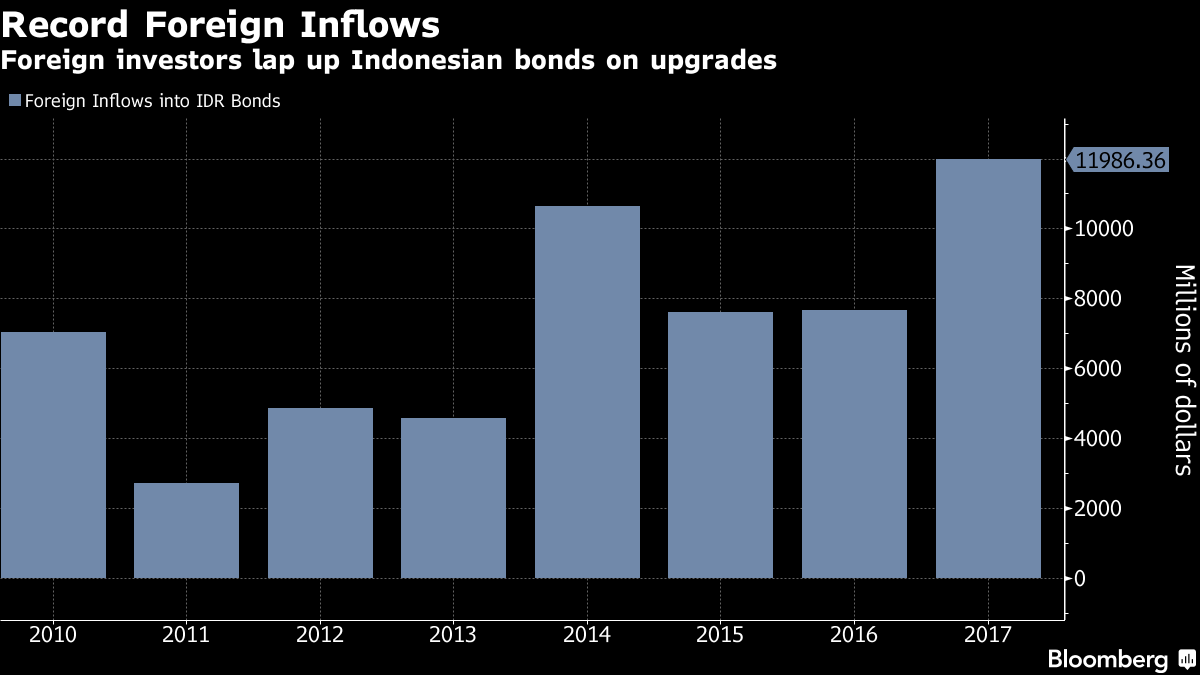 Investors have been rewarded with the nation's local notes surging 17 percent this year, compared with 12 percent for emerging Asian bonds, according to Bloomberg indexes. The benchmark Jakarta Composite Index rallied 1.2 percent to close at a record 6,183.391 on Thursday, while the rupiah gained as much as 0.3 percent to 13,537 per dollar, the highest since Dec. 6, according to data compiled by Bloomberg.
Foreign Reserves
Rising foreign-exchange reserves and strong economic growth are other reasons for the upgrade, Fitch said. It expects Indonesia's gross domestic product to rise 5.4 percent in 2018 and 5.5 percent in 2019, from 5.1 percent in 2017. Net foreign direct investment will cover the current-account deficit over the next few years as the ease of doing business ranking improves, the firm said.

Bank Indonesia welcomed the upgrade and said it will continue its commitment to maintaining macro-economic and financial system stability to support a strong, sustainable, balanced, and inclusive economic growth. Moody's Investors Service may follow the other two rating companies in upgrading the country, said Josua Pardede, an economist at PT Bank Permata. Mandiri's Yunianto expects Moody's upgrade as early as February.
Risks include potential emerging market pressure as the U.S. proceeds with rate increases, Indonesia's high dependence on commodities and high level of net and gross external debt, as well as the upcoming elections.
The possibility that political noise becomes a distraction from economic policy making in the run up to the 2018 local elections and 2019 presidential election represents a risk to the strong reform drive and could undermine domestic and foreign market sentiment, although such an outcome is not Fitch's base case, it said.
Other details from the Fitch statement:
— With assistance by Y-Sing Liau, Andrew Janes, Henry Hoenig, and Rieka Rahadian
Source : https://www.bloomberg.com/news/articles/2017-12-21/indonesia-wins-fitch-credit-rating-upgrade-months-after-s-p-move